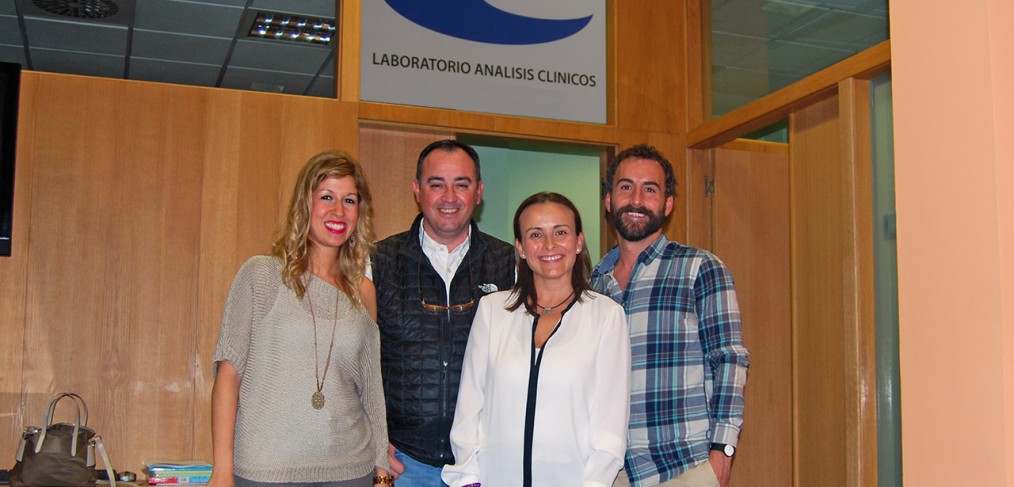 LA AYUDA DEL LABORATORIO MÉDICO EN EL DIAGNOSTICO CLINICOTHE HELP OF THE MEDICAL LABORATORY TO THE CLINICAL DIAGNOSIS
LAS ALTERACIONES EN LA DIGESTION: "EL MIEDO PERSONAL" Y "EL MIEDO SOCIAL"
Unidad de transito digestivo y salud intestinal (UTDSI)
Más de un 60% de las consultas médicas en atención primaria tienen su origen en trastornos digestivos. Los problemas de estreñimiento y/o diarrea, el notar o tener la sospecha de" la presencia de sangre en heces, el miedo comer según que alimentos " porqué me sientan mal" son, junto a el miedo al "cáncer", los temores personales de los pacientes que acuden a nuestras consultas.
Esto es lo que llamamos "Miedo personal".
Junto a este miedo personal existe, y también unido a estos trastornos digestivos, el " Miedo Social".
Este "miedo" es el temor a que, en actos públicos, estos trastornos digestivos se manifiesten en forma de "eructos" " ventosidades" , "distensiones abdominales" " palidez, "pérdida de conocimiento", "mareos" "mala cara"…. ETC. Este "Miedo Social" se manifiesta como: Sensación de inseguridad por tener manifestaciones físicas, "Dolores", que nos conviertan en el foco de atención de la reunión y en ser el comentario de personas conocidas y desconocidas.
Incluso es causa de miedo el que exista la "posibilidad" de tener que ir urgentemente al baño o, incluso, el "miedo" a que dentro de estos cuadros ya descritos y , sin poderlo controlar, se nos escape una pequeña porción de heces. Hay veces que este miedo se "somatiza" de forma tan intensa que no acudimos a reuniones de trascendencia personal, familiar y social porque "Tenemos miedo a oler mal"
Existe, por último, un Miedo que podríamos llamar "Pánico a comer".
Estos cuadro que muchas veces en gente mayor se manifiestan únicamente por la negativa a ingerir cualquier tipo de alimento, son temas que requieren una atención personalizada, una anamnesis muy cuidada y , sobre todo, pensar en que muchas veces la causa originaria no es sino el fruto de una educación muy severa y restrictiva , unos malos hábitos alimenticios heredados y el desconocimiento de que medidas medicas, dietéticas, higiénicas, antiálgicas y rehabilitadoras físicas y sociales muy sencillas pueden ayudarnos a solucionar el problema de forma total pero, sobre todo, nos da la primera pauta y razón para poder vencer nuestros MIEDOS A LAS ALTERACIONES DIGESTIVAS.
RECUERDE:
Desde el laboratorio clínico con unas pruebas muy sencillas, precisas y rápidas, podemos ayudarle a combatir y ganar la batalla a estos "MIEDOS"
ALTERATIONS IN DIGESTION: "PERSONAL FEAR" AND "SOCIAL FEAR"
Digestive Transit Unit and Intestinal Health (UTDSI)
More than 60% of medical consultations in primary care have their origin in digestive disorders. Problems of constipation and / or diarrhea, noticing or suspecting "the presence of blood in feces", fear of eating according to which foods" why they feel bad "are, along with fear of" cancer ", are the personal fears collected in our medical consultations.
This is what we call "Personal Fear".
Along with this personal fear exists, and also united to these digestive disorders, the "Social Fear".
This "fear" is the worry that, in public acts, these digestive disorders they manifest in the form of "belching" "winds", "abdominal distension" "pallor," "loss of consciousness", "dizziness" "bad face". … ETC "Social Fear" is manifested as: Feeling of insecurity for having physical manifestations, "Dolores", that make us the focus of attention of the meeting and the commentary of people known and unknown.
It is even frightening that there is a "possibility" of having to go to the bathroom or even the "fear" that within these pictures already described and, without being able to control it, "we send" small portion of feces. There are times that these fears "We somatized it "so intensely that we do not attend meetings of personal, family and social transcendence because "We are afraid to smell bad"
There is, finally, a Fear that we could call "Panic to eat ".
These pictures that many times in older people are manifested only by the refusal to ingest any type of food, are issues that require a careful attention, a careful history and, above all, think that often the original cause is only the result of "a very severe and restrictive education" , poor inherited eating habits and lack of knowledge that simple medical, dietary, hygienic, anti-anxiety and physical and social rehabilitative measures can help us solve the problem in a total way, but above all, it gives us the first pattern and reason to be able to overcome our "FEARS TO DIGESTIVE ALTERATIONS".
REMEMBER: From the clinical laboratory with very simple, precise and fast tests, we can help you fight and win the battle to these "FEARS"